Astor | Contemporary Black PU Leather Bar Stools
→ SET OF 2
$179.97
$249.97
You save:
$70.00 AUD
(28.0%)
Buy Now Pay Later Options
Product Description
Description

SIZE

Flat Rate Shipping

policies
Description
Indulge In Luxury & Support With Astor
Customizable Height: The SGS-tested gas lift lever enables easy height adjustment, ensuring the perfect seating position for everyone.
Sturdy and Stable: With a corrosion-resistant chrome finish and a 41cm diameter steady base, the Astor Bar Stool offers excellent stability for worry-free use.
Luxurious Upholstery: Premium PU leather adds a touch of luxury, making the bar stool both visually appealing and comfortable to sit on.
Floor Protection: The built-in floor protector under the base ensures your pristine floors remain scratch-free, even with frequent use.
Versatile Footrest: The semi-circular footrest provides added support and relaxation while sitting, allowing you to truly unwind.
Welcome to the world of the Astor Bar Stool, where ultimate comfort and timeless style converge. This bar stool is a true embodiment of luxury and relaxation.
Indulge in the exceptional comfort provided by the Astor Bar Stool's extra thick foam padding.
Sink into its plushness and experience unparalleled relaxation.
The supportive high backrest ensures excellent lumbar support, allowing you to unwind and forget about the stress of the day.
Seamlessly glide from one conversation to another with the Astor Bar Stool's 360-degree swivel seat.
This feature enables effortless movement, making it convenient for social gatherings or casual dining experiences. Simply turn to face your desired direction without any hassle.
Customize your seating position effortlessly with the Astor Bar Stool's adjustable height feature.
Thanks to the SGS-tested gas lift lever, finding the perfect height for your bar or countertop is a breeze.
Whether you prefer a higher vantage point or a lower seating position, this bar stool adapts to your preferences.
Designed To Last
Designed for durability, the Astor Bar Stool boasts a corrosion-resistant chrome finish.
Its wide 41cm diameter base ensures stability, eliminating any wobbling or imbalance.
Additionally, the built-in floor protector underneath the base safeguards your floors against scratches, keeping them in pristine condition.
Embrace the luxurious aesthetics of the Astor Bar Stool, wrapped in premium PU leather.
This exquisite upholstery enhances the overall visual appeal, exuding elegance and sophistication. It effortlessly complements any home decor, making it a perfect addition to your space.
Elevate your home bar or kitchen counter with the Astor Bar Stool.
Combining comfort, style, and functionality, it transforms your space into a haven of relaxation and refined taste.
Experience the epitome of comfort and luxury with the Astor Bar Stool.
Add to cart now whilst stocks last!
Exclusive Industry Leading Life Time Warranty
Only retailer in Australia that covers both structural and natural wear and tear of your dining chairs for the life time of your ownership!
Wrong Colour Return Eligible
We know it can be hard to buy online and get the colour just right with screen resolutions and comparing it to your own décor so we want to add an extra layer of confidence of buying with us by allowing these chairs to be returned if the colour didn't suit your décor.  
 * See Returns page for T's & C's
Buy Now – Pay Later
Don't have the money on you right now?
That's ok – see our 3 Buy Now Pay Later options above for a great deal that suits you that's interest free!
FEATURES
Premium PU leather
Supportive high backrest
Extra thick foam padded
360 degree swivel seat
SGS Tested gas lift lever
Corrosion-resistant chrome finish
Semi-circular footrest
41cm diameter steady base
Floor protector under base
SPECIFICATIONS
Seat material: PU leather
Base material: steel
Finish: Chrome
Seat height: 66~79cm
Colour: Grey

Chair Weight Limit: 150kg
PACKAGE CONTENTS
2 x bar stools
1 x Assembly Manual
NOTES
Note: The actual colours may vary due to differences in monitor colour depth and make.
Cannot be used for commercial use
SIZE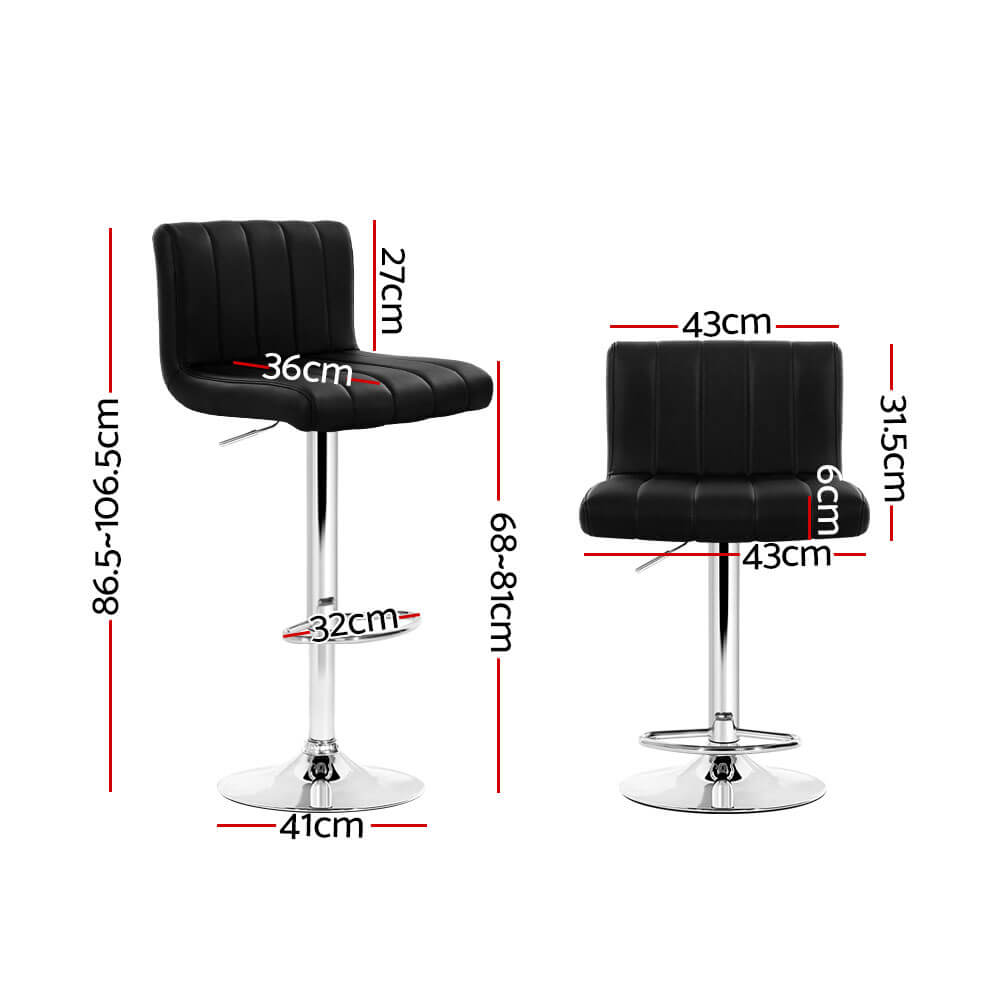 Flat Rate Shipping
***FLAT RATE SHIPPING & DELIVERY TIMES***
PLEASE ALLOW 2 DAYS TO FULFIL YOUR ORDER THEN THE FOLLOWING APPLIES:
ESTIMATED DELIVERY TIMES 
YOUR AREA

DELIVERY ESTIMATE

NON-DELIVERY POSTCODES

Sydney (Metro)

3 - 6 Business Days




NSW (StateWide)

3 - 8 Business Days

2641,2717, 2831, 2898, 2899

2222, 2449, 2818, 2827, 2829, 2836 ,2839, 2874, 2898

ACT (StateWide)

5 - 8 Business Days




Melbourne (Metro)

2 - 5 Business Days




VIC (StateWide)

2 - 7 Business Days

3724


Brisbane (Metro)

4 - 7 Business Days




QLD (StateWide)

4 - 11 Business Days

4184, 4421,4450-4499, 4680, 4700-4805, 4806-4899, 4900-4999, 4477, 4490, 4626, 4822, 4871, 4875 9920-9959, 9960-9999

Adelaide (Metro)

3 - 6 Business Days




SA (StateWide)

3 - 7 Business Days

5701

Perth (Metro)

6 - 9 Business Days




WA (StateWide)

6 - 11 Business Days

6330, 6282, 6055, 6215-6699, 6700-6799, 6044, 6209, 6224, 6290, 6442, 6536, 6562, 6707, 6713, 6725, 6728,6743, 6751, 6753, 6754

TAS (StateWide)

4 - 7 Business Days

7151,7255, 7256, 7258, 7260

NT (StateWide)

7 - 15 Business Days

885, 0800-0999
policies
SATISFACTION GUARANTEE
We're committed to helping you find those perfect dining chairs, dining tables & bar stools and we want you to feel confident when shopping with us and that's why we have our exclusive lifetime warranty on chairs & bar stools and 5 years warranty on dining tables.
In the unlikely event of damage, a fault, or you simply decide that the item isn't right for your space, we understand.
Click here to view our full returns policy.
As Featured In:
Transform Your Dining Experience With Only Dining Chairs.
If it's time to update your dining area to impress not only yourself but your future guests or If you have been left "holding the bag" with your previous dining chair experience as your chairs have worn out right on the day after the warranty expired, then you have come to the right place.
✅ Only Dining Chairs prides itself on not only supplying quality dining chairs but being there for you well after the sale has taken place.
✅ Our team of experts are committed to finding and selling only the best quality chairs for your dining room and for all price ranges.
✅ Our customer service is second to none so reach out at any time knowing your email will be responded to in a timely manner!
Frequently Asked Questions
1. Do We Have A Showroom?

No, as a predominantly online store we do not have a showroom. By eliminating the need for a "brick and mortar" display our costs are lowered, allowing for quality products to be sold at competitive prices.

2. Why Should I buy From You Rather Then Another Store?

That's a very valid question to ask. We feel that our "after sale" customer service sets us apart from the rest.

With our life time warranty and regular wear and tear coverage on all chairs in a residential setting means that we are happy to help you long after our competitor's 1 to 2-year warranty has expired.

3. How Long Will My Delivery Take?

All orders take one to two business days to be prepared for despatch then depending on the chairs you are purchasing, will determine your delivery times.
For exact times- see that specific chair's product page and there is a "Shipping" section and this will guide you.
For a quick answer- as a general rule as follows:
• For VIC, approximately 3 - 5 working days
• For NSW, SA, ACT, approximately 4 - 8 working days
• For QLD, NT,WA and TAS, approximately 7 - 10 working days.
• We'll let you know the tentative delivery date when you place your order in the order confirmation email.

4. Can I Specify A Delivery Date?

We can't guarantee a delivery date, however we will try our best to arrange a delivery around your schedule. Once you have placed your order, you can get in touch with us via support@onlydiningchairs.com.au to let us know your delivery preference and we will see what we can do.

5. How Can I Place A Bulk Order?

If you want a special quote for bulk purchase dining chairs in Australia, reach out to our customer support team at support@onlydiningchairs.com.au with the following information:-

→ Product name

→ Colour if applicable

→ How many you need

→ Delivery postcode

6. What Are The Payment Options Which You Provide?

We offer multiple payment options including all credit cards, Paypal, Apple Pay, Gpay as well as interest free options such as Afterpay, Humm and Zip Pay amongst others.

7. Do You Provide Warranty For Your Dining Chairs?

Yes we provide our exclusive lifetime warranty on all dining chairs in a residential setting as well as regular wear and tear coverage.

8. Is There Any First-time Customer Discount?

Yes, use coupon code "NEW5" at checkout for 5% off your entire order!

9. How Are The Dining Chairs Delivered?

For smaller, flat packed chairs – Australia Post.

For partly assembled and fully assembled chairs – Toll Ipec or Star Track generally.

Other couriers may help us out from time to time in certain areas of Australia such as Direct Freight Express or Capital Transport

10. Do I Need To Assemble This Chair?

For Flat Packed Chairs- Yes, a single chair may take you 10 minutes or less and once you have assembled the 1st chair- the next ones will be a breeze.

11. What If My Chairs Arrive Damaged?

Don't worry. We will lodge an inquiry with the transport company who was in charge of looking after it and they will conduct a thorough search and provide a response generally within 4 business days.

12. What If I Change My Mind?

No worries. You have 30 days since the day you received the chairs to let us know – just remember the chairs need to be in re-sellable condition