Highfield | Coastal Commercial Wooden Dining Chairs
→ SET OF 2
$849.00
You save:
$-1,099.00 AUD
(100%)
Buy Now Pay Later Options
Product Description
Description

SIZE

Shipping

policies
Description
Distinctive Dining Elegance
100% foam filling for maximum comfort
No assembly is required. Set up the table and dine as soon as they arrive!
Practical, durable, and comfortable - perfect for everyday dining
The Highfield wooden dining chairs are the perfect addition to any modern home. 
Featuring a coastal-infused design, this chair will brighten up any space and leave your guests ''wowed''. 
It's practical, durable, and comfortable - perfect for your dining table or as an extra seating option in the living room.
Infusing Style & Comfort
The Highland chairs are upholstered with light beige fabric and 100% foam for optimal comfort.
The timber oak frame and square legs make it sturdy and durable. 
With this amazing dining chair, you can relax, unwind and enjoy dining in comfort every day.
Transform your dining and bring a new experience.
Order yours today. Add to cart now!
Coming From Experience & Partnership
Our supplier only supplies to a strict set of selected retailers in Australia and works with trusted range of international suppliers; some who manufacture for international "higher end" brands.
Their focus on upcoming trends and our partnership with them ensures we have a staple range which suits most homes.
Exclusive Industry Leading Life Time Warranty
Only retailer in Australia that covers both structural and natural wear and tear of your dining chairs for the life time of your ownership!
Wrong Colour Return Eligible
We know it can be hard to buy online and get the colour just right with screen resolutions and comparing it to your own décor so we want to add an extra layer of confidence of buying with us by allowing these chairs to be returned if the colour didn't suit your décor.  
 * See Returns page for T's & C's
Buy Now – Pay Later
Don't have the money on you right now?
That's ok – see our 3 Buy Now Pay Later options above for a great deal that suits you that's interest free!


FEATURES
60% Linen and 40% Cotton blend
Timber oak frame and square legs
Curved cane back
Upholstered with light beige fabric
Filled with 100% Foam
Soft medium seat firmness
Weight capacity of 150kg
Suitable for commercial use
Product comes fully assembled

SPECIFICATIONS
Frame material: timber oak

Colour: light beige fabric with either natural or black frame

Chair Weight Limit: 150kg
DIMENSIONS
Seat Height: 48cm
Overall dimensions: 48.5cm (W) x 55cm (D) x 85cm (H)

PACKAGE CONTENTS

SHIPPING
These chairs are fully assembled and as such require a courier delivery rather than Australia Post.
We do our best to keep the shipping costs to your home or business as low as possible.
Shipping costs are calculated in the checkout area.
SIZE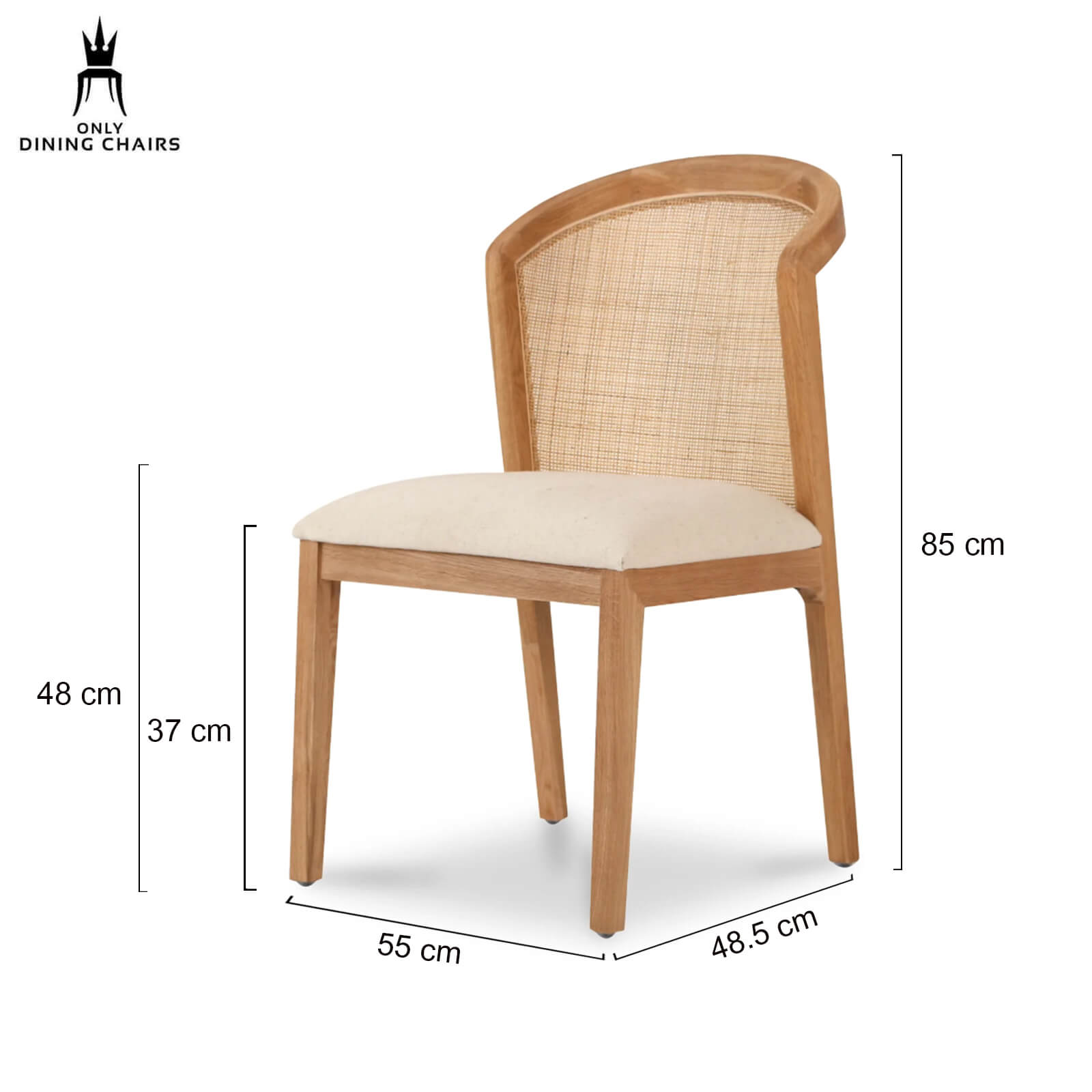 Shipping
SHIPPING & DELIVERY TIMES
PLEASE ALLOW 2 DAYS TO FULFIL YOUR ORDER THEN THE FOLLOWING APPLIES:
ESTIMATED DELIVERY TIMES
| | |
| --- | --- |
| YOUR AREA | DELIVERY ESTIMATE |
| Sydney (Metro) | 2 - 5 Business Days |
| NSW (StateWide) | 3 - 6 Business Days |
| ACT (StateWide) | 4 - 6 Business Days |
| Melbourne (Metro) | 2 - 5 Business Days |
| VIC (StateWide) | 2 - 7 Business Days |
| Brisbane (Metro) | 4 - 6 Business Days |
| QLD (StateWide) | 4 - 10 Business Days |
| Adelaide (Metro) | 3 - 6 Business Days |
| SA (StateWide) | 3 - 7 Business Days |
| Perth (Metro) | 6 - 9 Business Days |
| WA (StateWide) | 6 - 11 Business Days |
| TAS (StateWide) | 4 - 7 Business Days |
| NT (StateWide) | 7 - 15 Business Days |

Delivery Overview
A shipping confirmation email that contains tracking details is sent to you within 24 hours of dispatch.
Due to these dining chairs being either assembled or pre-assembled, we need to use the services of a national carrier as they are too big for Australia Post so we use TNT or TOLL.
If no one is present when delivery is attempted a notification card will be left allowing you to easily retrieve your item(s).
Click here for additional details.
policies
SATISFACTION GUARANTEE
We're committed to helping you find those perfect dining chairs, dining tables & bar stools and we want you to feel confident when shopping with us and that's why we have our exclusive lifetime warranty on chairs & bar stools and 5 years warranty on dining tables.
In the unlikely event of damage, a fault, or you simply decide that the item isn't right for your space, we understand.
Click here to view our full returns policy.
As Featured In:
Transform Your Dining Experience With Only Dining Chairs.
If it's time to update your dining area to impress not only yourself but your future guests or If you have been left "holding the bag" with your previous dining chair experience as your chairs have worn out right on the day after the warranty expired, then you have come to the right place.
✅ Only Dining Chairs prides itself on not only supplying quality dining chairs but being there for you well after the sale has taken place.
✅ Our team of experts are committed to finding and selling only the best quality chairs for your dining room and for all price ranges.
✅ Our customer service is second to none so reach out at any time knowing your email will be responded to in a timely manner!
Frequently Asked Questions
1. Do We Have A Showroom?

No, as a predominantly online store we do not have a showroom. By eliminating the need for a "brick and mortar" display our costs are lowered, allowing for quality products to be sold at competitive prices.

2. Why Should I buy From You Rather Then Another Store?

That's a very valid question to ask. We feel that our "after sale" customer service sets us apart from the rest.

With our life time warranty and regular wear and tear coverage on all chairs in a residential setting means that we are happy to help you long after our competitor's 1 to 2-year warranty has expired.

3. How Long Will My Delivery Take?

All orders take one to two business days to be prepared for despatch then depending on the chairs you are purchasing, will determine your delivery times.
For exact times- see that specific chair's product page and there is a "Shipping" section and this will guide you.
For a quick answer- as a general rule as follows:
• For VIC, approximately 3 - 5 working days
• For NSW, SA, ACT, approximately 4 - 8 working days
• For QLD, NT,WA and TAS, approximately 7 - 10 working days.
• We'll let you know the tentative delivery date when you place your order in the order confirmation email.

4. Can I Specify A Delivery Date?

We can't guarantee a delivery date, however we will try our best to arrange a delivery around your schedule. Once you have placed your order, you can get in touch with us via support@onlydiningchairs.com.au to let us know your delivery preference and we will see what we can do.

5. How Can I Place A Bulk Order?

If you want a special quote for bulk purchase dining chairs in Australia, reach out to our customer support team at support@onlydiningchairs.com.au with the following information:-

→ Product name

→ Colour if applicable

→ How many you need

→ Delivery postcode

6. What Are The Payment Options Which You Provide?

We offer multiple payment options including all credit cards, Paypal, Apple Pay, Gpay as well as interest free options such as Afterpay, Humm and Zip Pay amongst others.

7. Do You Provide Warranty For Your Dining Chairs?

Yes we provide our exclusive lifetime warranty on all dining chairs in a residential setting as well as regular wear and tear coverage.

8. Is There Any First-time Customer Discount?

Yes, use coupon code "NEW5" at checkout for 5% off your entire order!

9. How Are The Dining Chairs Delivered?

For smaller, flat packed chairs – Australia Post.

For partly assembled and fully assembled chairs – Toll Ipec or Star Track generally.

Other couriers may help us out from time to time in certain areas of Australia such as Direct Freight Express or Capital Transport

10. Do I Need To Assemble This Chair?

For Fully Assembled Chairs – No, these chairs are fully assembled so just open the box and place them under your table!

11. What If My Chairs Arrive Damaged?

Don't worry. We will lodge an inquiry with the transport company who was in charge of looking after it and they will conduct a thorough search and provide a response generally within 4 business days.

12. What If I Change My Mind?

No worries. You have 30 days since the day you received the chairs to let us know – just remember the chairs need to be in re-sellable condition